Striper Fishing Guide on Lake Texoma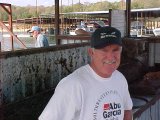 Come experience beautiful Lake Texoma and some of the best striper fishing there is with professional guide Jerry "JD" Dorsey. JD operates a licensed and insured charter striper guide service fishing out of Litttle Mineral Marina "Lost Paradise" on Lake Texoma. He has dedicated the last 19 years to bass fishing and learning the patterns of the striped bass. JD has a 98% limit rate as a sports fishing guide on the lake. For more information or to schedule your next fishing trip contact:

Jerry "JD" Dorsey

or copy
jddorsey007yahoo.com
to the "TO: line of your email browser.

Address:
305 Pecan Place Lane
Pottsboro, Texas 75076

ph: 903-786-3981
or 903-819-5837
JD's charter boat is a 1999 22 ft. Triton with a 225HP Yamaha fully loaded with the latest boating and fishing equipment, including a porta potty for the ladies.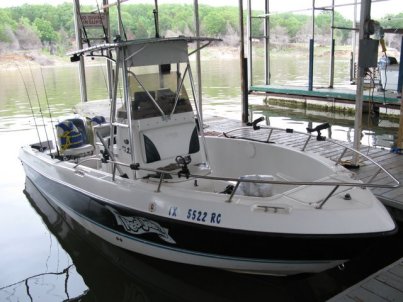 Charters depart at daylight, 7 days a week with the best fishing year around.
Lodging can be arranged, and food is provided at extra charge. Guaranteed results at competitive prices.
You are invited to experience one of the best times on Lake Texoma and catching fish is a bonus!
Guaranteed Fish
---
Effective January 1, 2010, all fishing guides on Lake Texoma must have a merchant mariner credential issued by the United States Coast Guard and carry a minimum amount of liability insurance. Make sure that the guide you have chosen to fish with has the correct credentials required for taking customers on the lake. All vessels on the lake are subject to USCG checks and will most likely be escorted off the water as well as being subject to other penalties without proper credentials and inspections. Be sure that you choose a guide that is meeting all federal and state requirements to help insure that you and your party have a good time while on the water.

I am U.S. Coast Guard Certified, CPR and First Aid qualified; Taken Boaters Safety, with all the requirements of a C.G. 6-pack, O.U.P.V. License; with all safety equipment on a fully inspected fishing vessel. I carry all the license as an Oklahoma and Texas Guide, as well as a TWIC card issued by the U.S. Government. I have been on Lake Texoma as a guide, since 1994.